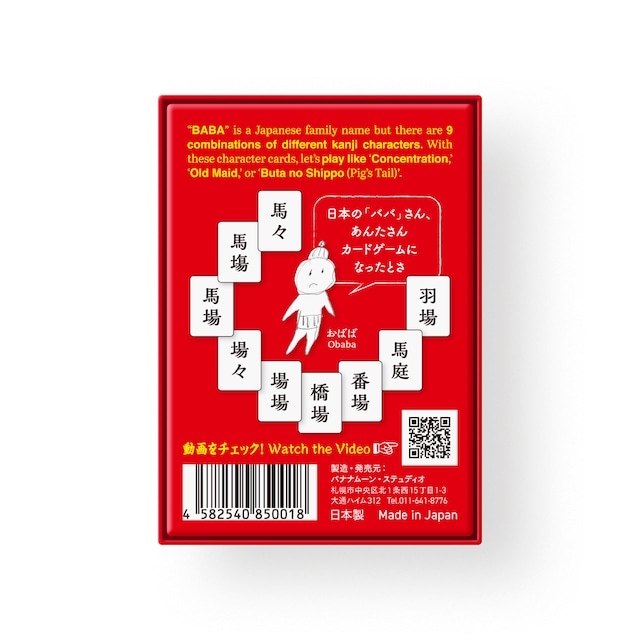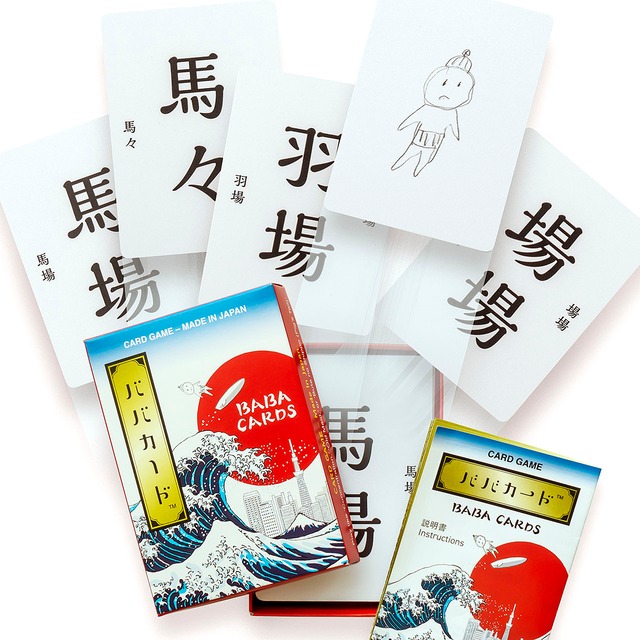 BABA Cards, Card Game|ババカード
[日本語はこちら|Japanese]
https://bananamoon.official.ec/items/69707249

A card game of kanji like playing cards, made in Japan.
No kanji reading skills required!

---
VAT, duties, and customs fees outside Japan are not included and are the responsibility of the recipient of the package.
Add to Like via app
• Players: 2-6
• Time: 5-10 min.
• Ages: 6+ (14+ in EU countries and the UK)
• Printed Instructions: Japanese, English
• PDF Instructions: English, Japanese
---
[Keywords]
• Language-Independent
• Japanese-Style Artwork
• No Japanese Skills Required
• Made in Japan
Overview
"BABA" is a Japanese family name but there are 9 combinations of different kanji characters. With these character cards, let's play like 'Concentration,' 'Old Maid,' or 'Buta no Shippo (Pig's Tail)'.

• PV (66 sec.)
All cards are BABA!
Hilariously confusing to the eye!
BABA is a family name, printed on the cards in 9 different ways. And the character OBABA, means 'grandma' or 'old lady' in Japan.
Don't get cocky! Kanji may look the same but lookout for little differences! It's confusing!
Games
[BABA AWASE|ババ合わせ]
• Players: 2-6
• Time: 5-10 min.
• Ages: 6+
Just like 'Concentration (Spaghetti)'
[OBABA NUKI|おババ抜き]
• Players: 3-6
• Time: 5-10 min.
• Ages: 6+
Just like 'Old Maid'
[BABA NO SHIPPO|ババのしっぽ]
• Players: 3-6
• Time: 5-10 min.
• Ages: 6+
Just like 'Buta no Shippo (Pig's Tail)'
Box (Face)
Box (Back)
BABA Cards, Card Game
[Contents] 38 Cards (Kanji: 4 cards x 9 suits, Obaba: 2 cards), Instruction Sheet (JP, EN)
[Game Design] Banana Moon Studio Sapporo
[Box Size] 72 x 100 x 17mm  [Weight] 86g
JAN 4582540850018
Made in Japan

Learn more about the game:
https://bananamoon-games.jp/game/baba-cards-en/
Reviews

(3)

Shipping method / fee

Payment method